Dear students,
As KDI School sets out to lead the research environment in Sejong, Research Labs have been the center of collaborative research within KDI School.
Ten labs are currently operating, and seven labs are now looking for a highly motivated individual who will work as a research assistant.
Please refer to the following details:
Research Labs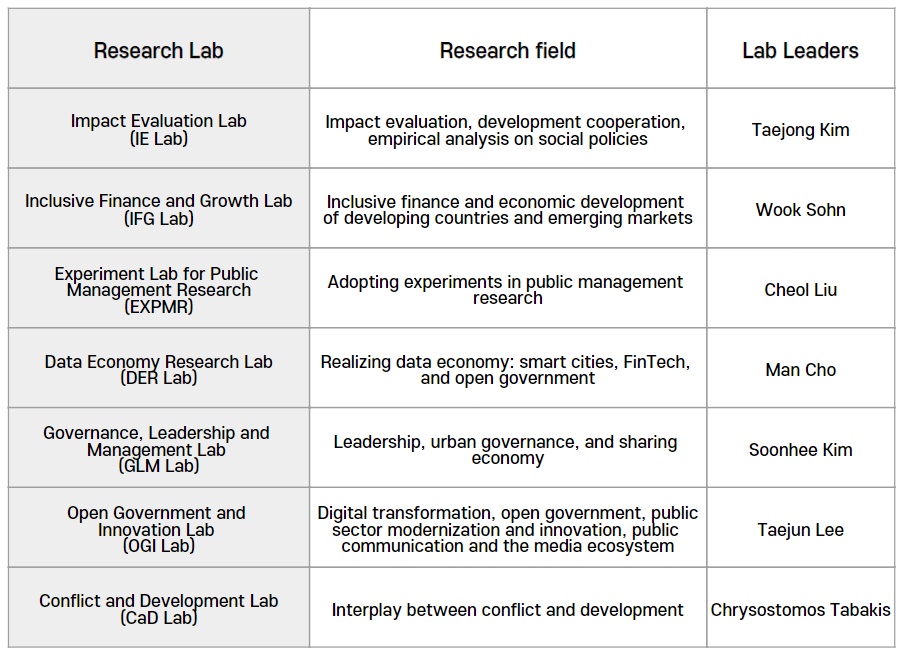 2. Position Overview
a. Scope of work
RAs will serve both as research assistants and administrative assistants for lab activities as a member of the lab.
For more information on the Labs, please check here.
b. Eligibility
Full-time students (in their 1st ~ 3rd terms) of KDI School who are enrolled in Master's program,with preferences on students who are without full scholarship benefits
Statistical skills using various statistical software (e.g. STATA, R, Python) would be an asset.
c. Payment: KRW 700,000 (before tax) per month in the form of a working scholarship
d. Required documents
CV
e. Recruiting process
After applicants submit their application, each lab may arrange an interview with the shortlist of applicants to identify the best candidate for their lab activities. The final result will be announced in the late August. The term of RA position will be from September 2021 to February 2022 and can be extended to August 2022 based on your performance. We expect all RAs to be enrolled in KDIS master's program during their employment.
3. How to apply
Please submit the required documents and answers via the link below.
Deadline: All applications should be submitted by 6:00 PM, August 16, 2021.
LINK: https://forms.gle/mbdvW9ajz6HJSmcq6
In alignment with nationwide recommendations on social distancing, please contact us via e-mails only!
Research Planning Division odric.rpd@gmail.com